During March 2008 ESI assessed the habitat use and status of an undescribed species of squirrel found only in one small island off the cost of Palawan Island, Philippines.

The white squirrel was already known by the locals but brought to the rest of the world just few months ago. ESI immediately visited the island where the white squirrel is found to assess the habitat use, conditions, and status of the unique species.

This squirrel is white with light brown and orange colors on the bottom of its tail. It has never been observed in the main island (Palawan Island). It is endemic to a small island where primary rainforest is gone. "The population size is unknown and the surrounding islands need to be surveyed to know the actual range of the white squirrel. However, even by assuming that nearby islands are also occupied by the white squirrel, its range is tiny since the surrounding islands are very small. The combination of a tiny range and increasing human pressure (over-hunting and habitat destruction) is a very bad news for the white squirrel. Urgent actions to protect this species are urgently needed" explains ESI President Pierre Fidenci.

The white squirrel is currently found in degraded habitats such as abandoned coconut plantations mixed with few native trees. "They are usually active during late afternoon and early morning, however we know nothing about this white squirrel" Pierre Fidenci.

The demand for a newly "discovered" beautiful white animal is very likely to increase quickly and will bring the white squirrel to extinction. It is time to act now to protect this magnificent squirrel and its habitat. Join ESI in protecting the white squirrel!


Visit our white squirrel photo gallery to see more pictures.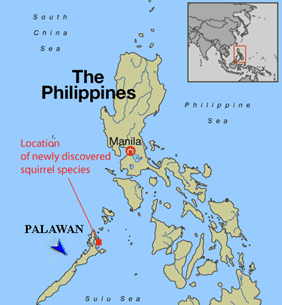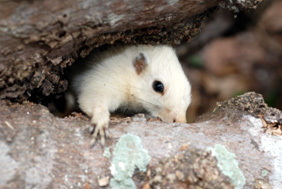 A newly undiscribed species of squirrel in the Philippines © 2008 Pierre Fidenci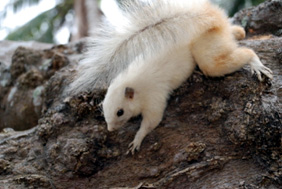 The white squirrel is victim of its beauty and rarety. Remaining population size is unknown © 2008 Pierre Fidenci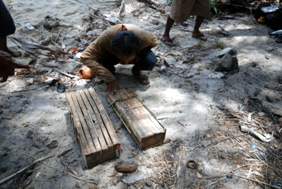 White squirrels are sold as pets on the island © 2008 Pierre Fidenci