Actions on the ground to save endangered species and wilderness, making a huge difference without losing time and resources!



ESI Congo selected by the prestigious French Global Environmental Fund (FGEF)
155 non-profit organizations submitted proposals to save biodiversity around the world! The FGEF selected the best eleven projects for biodiversity conservation which will bring strong concrete and sustainable results. The fund provided by FGEF will allow ESI Congo to pursue its innovative approach to protect gorillas in part via the hunting cooperative for gorilla conservation. ESI finds new practical solutions to save endangered gorillas and their forests. Gorillas are killed for their meat and habitat reduced by illegal logging activities. The FGEF focuses on preserving biodiversity and international waters, as well as acting on climate change, persistent organic pollutants, land degradation, desertification and deforestation.



Animal trivia game supporting ESI
Test your knowledge of the world's diverse and intriguing animal kingdom with Zoo IQ, the most detailed and comprehensive animal trivia app on the market! Increase your score by finding the animals that share a common link. Questions covering a large array of category from physical description of the animal to behavior that can be whimsically easy or scathingly difficult make for a fun, challenging and educational experience for all ages! This application is designed for both iPad and iPhone. $1 from every sale is donated to ESI. Play the game!



ESI planting over 400 endangered native tropical trees
Regenerating and expending natural tropical forest is essential in the fight against global warming, to stem biodiversity loss and to provide watershed benefits. Our reforestation activities are made to last and are monitored over the years. Information about slope, competition, coverage, soil quality and drainage are collected along with the tree species and tree condition. The selected reforestation sites are within protected area where logging is prohibited. Tree species planted included the Red Nato (Palaquium luzoniense), the critically endangered Philippine teak (Tectona philippinensis), the endangered narra (Pterocarpus indicus) and the critically endangered White Lauan (Shorea palosapis).



ESI discovered Tilapia killing pristine lake
Holon Lake, hidden in remote mountains of southern Philippines, is one the cleanest and untouched wilderness. However, Tilapia fish has been released illegally and is now the dominant fish, threatening native fish and the original ecosystem of the lake. Tilapia often competes with native species for the same type of food, and can therefore cause declines in native populations. Tilapias are freshwater fishes belonging to the cichlid family. The various species are indigenous to Africa and the Middle East.



ESI Endangered Species Conservation Awareness
ESI art Contest about saving endangered species and their habitats was a success. People of all ages and skill levels entered the contest to drawn about endangered species and their habitats. Contest serves as an excellent way for educating students about endangered biodiversity through art. "The response and the number of participants were overwhelming and exciting" said Luwalhati Yap, ESI Conservation Awareness Leader, who organized the conservation awareness and art contest. Congratulation to Sofia Isabel Caballo, a 10-year-old student from Siliman Elementary School, who won the art contest.



The decline of coral reefs continues
ESI conducted coral reef monitoring and assessment at the Coral Triangle in Southeast Asia. First results show a slow recovery at some sites and sharp decline at others over the last two years. The news is worrisome as coral reefs are facing more threats than ever due to human activities. ESI will be also releasing soon a free comprehensive documentation on coral reefs for schools. Among the most valuable ecosystems on Earth, coral reefs provide humans with billions of dollars in economic and environmental services such as food, protection for coasts, and tourism. Coral ecosystems face serious threats, mainly from the impacts from climate change, unsustainable fishing, land-based pollution, and overpopulation. Join ESI to save coral reefs!



New Project Officer for ESI Congo
Welcome to Remi Djian who will be directing the gorilla project in Congo including searching for additional partners to strengthen our conservation activities to protect endangered species and rainforest. Remi has tremendous experience in community based-project and project management in western and central Africa. He has a Master in International Cooperation and Development.



Endangered green sea Turtle illegally sold in the Philippines
During several undercover monitoring activities at pet stores in Manila, ESI staff observed endangered green sea turtle (Chelonia mydas) being sold illegally for $50 per turtle. Threats to this species include commercial harvest for eggs and food, for leather and small turtles sold as pet. Incidental catch in commercial shrimp trawling is an increasing source of mortality. Green turtles are also threatened, in some areas of the world, by a disease known as fibropapillomatosis (FP). Green turtles are the largest of all the hard-shelled sea turtles, but have a comparatively small head.



ESI welcomes the creation of the Termit & Tin Toumma Nature and Cultural Reserve, Niger
On March 6th, 2012, the Niger government officially declared the Termit & Tin Toumma Nature and Cultural Reserve, providing urgent protection to some of the world's most endangered species. The reserve will protect the addax antelope, the dama gazelle and the Barbary sheep. After a very long effort, the reserve's establishment is the result of cooperation between the Nigerien authorities, donors like the French government, the EU, and the Sahara Conservation Fund, and the Convention on Migratory Species. Local communities have also been heavily involved in the process, including pastoralists living in the area and who see the reserve's establishment as an opportunity to preserve their way of life.



ESI reforestation monitoring shows great results!
In tandem with local communities, ESI planted thousands of native tropical trees at various locations in the tropics. Our latest tree planting monitoring showed 95 percent survival rate for all trees planted in 2011. We plant native trees and foster their growth to bring back the rainforest. Our activities are made to last and anybody can verify the difference on the ground!



SUPPORT ENDANGERED SPECIES INTERNATIONAL to reverse dramatic declines in wildlife species and the destruction of the places where they live in!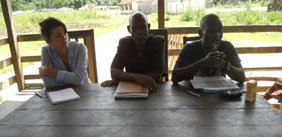 ESI and FGEH meeting with hunters to protect gorillas.
© Endangered Species International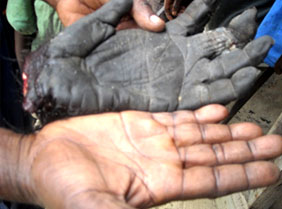 ESI fighting illegal poaching of gorillas in Congo.
© Endangered Species International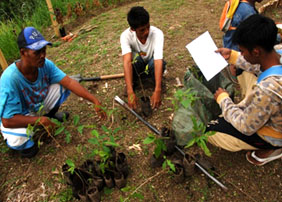 ESI planting native tropical trees with indigenous people.
© Endangered Species International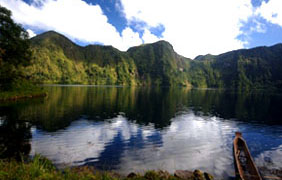 Holon Lake under threat by Tilapias recently introduced by humans. © Pierre Fidenci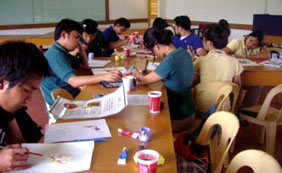 ESI art contest. © Endangered Species International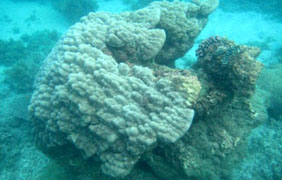 Coral damage observed in the Coral Triangle.
© Endangered Species International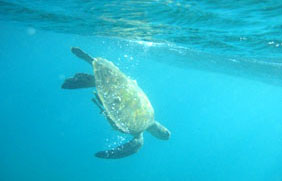 Endangered green turtle. © Pierre Fidenci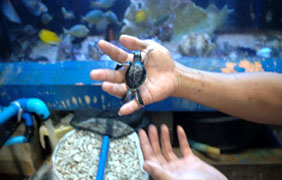 Endangered green turtle sold illegally and openly at pet store in Manila. What are the law enforcement authorities doing? © Endangered Species International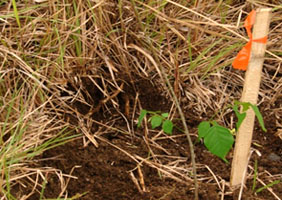 Tree monitoring shows high rate of tree survival.
© Endangered Species International